Three days left till I go back to secondary-school. I am wondering how the school will be with Covid-19 measures. I guess this will be the most cautious environment ever, in my whole schooling life.
🌞Bright side
Keeping aside the "gaining knowledge" factor for a moment, I believe we will get rid of the bad habits that we induced during the lockdown. The most common bad habits we might have induced to ourself could be among the following:
Procrastination
Binging on Netflix, Amazon Prime or other OTT platforms
Slumping on the cozy sofa surfing around social media
Binge-eating
Waking-up late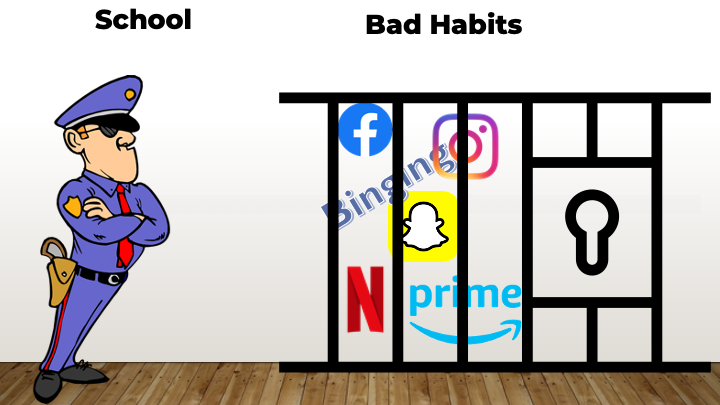 Every day, when we come back home, we will bring diverse work to-do, that will keep us busy and involved, so procrastination knocked off.
Time will be ticking than ever before, we won't be able to binge on watching Movies and Web series, Facebook so bye-bye binging.
Coming to the "gaining knowledge" factor we will learn a lot more than today, but at a lesser pace at the start – my prediction. Initial days of school, we might feel tons of knowledge passing through our head, . As were are not use to it, we slowly understand and remember the knowledge, gradually we will become more efficient in learning.
🌑 Dark side
Every second one thing will always haunt us, the invisible demon sars-cov-2. A demon that might catch you and transform you to spread it. When your or friends/classmates develop symptoms tensions build up till a point where we take a test that will relieve us or terrify us.
Virus catching us is no rocket science, it is as simple as talking to anyone from a closer distance. There are many ways we might get caught with this virus. I won't bother to write how one might get it or how to prevent it, because that would be related to medical science and I believe that nobody should write any medical advice unless there are a medical professional or backing up with reliable sources such as World Health Organisation (WHO).
There will many rumors about people getting the virus due to their absence, cough, fever, or simply teasing them because of the non-occurring mentioned events. We won't be sure who is right and who is wrong.
There will be moments where it is difficult to accept situations. Those situations that we never dreamed of, that situation we feel like "Why only to me" or "Why only to her/him". As humans, we will survive and overcome things.
🌞vs🌑 Conclusion
Personally, I don't have a crystal clear opinion. Going to school creates many new chapters in our life at the same time can also be the last chapter of our life. Meeting friends, learning new things, and interacting with people brings joy to our life, but we never know how things can get worse by pursuing these joy factors. I would say, I would go with the flow. If 50% of my classmates attend, I would attend. Less than this I would seriously consider not attending until the flow doesn't come back.
Statistically, Child mortality has been very limited during the pandemic according to the United Nations Children's Fund Data(UNICEF).